TME national projects
The projects below are in progress or finished in recent years. For most of the projects more information about content and results is publicly available. The description of those projects contain a link to that extra information. If you have specific questions about project results and reports, you can submit them to TME.
Environmental costs in the Netherlands
Every year the Netherlands Environmental Assessment Agency (PBL) publishes an Environmental Balance in the framework of the Dutch Environmental Management Act. This Environmental Balance provides an overall picture of the emissions and environmental quality in the Netherlands in relation to current policy and societal trends.
In 2005 TME has revised the national database of environmental costs. Since then TME updates this database annually. Also an overview is given of annual environmental costs made by the Dutch government on several environmental themes (climate, noise, acidification, etc). This overview covers the most important environment levies (total turnover and the share of households in this), subsidies and tax facilities, and the income for the government from the so-called green taxes.
Environmental costs per theme 1990 - 2008 (x € mln)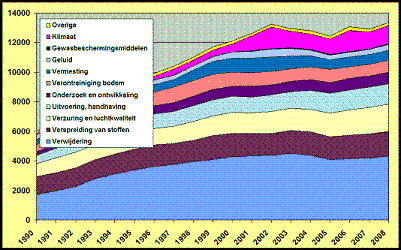 Sources for the annual updates are data from Statistics Netherlands (partly public available from their website) and budgets and realised figures from the Dutch government.
The collected data concerning environment costs and budgets can be used, after authorisation by PBL, for other research projects.
Eco-balance Roto Smeets Group
Developing and estimating annually an eco-efficiency on a company level for Roto Smeets Group NV (largest Printing Company in the Netherlands). Basically, an eco-balance is an input-output sheet containing all raw materials, water and energy use and all wastes, disposals and emissions. By means of a year by year eco-balance, RSG is able to show the effects of implemented eco-efficiency measures and to act accurately on exceeding raw material usage or abnormal wastes and emissions. The eco-balance is part of RSG's ISO 14001 practices.
more info on website RSG >>